Combined Heat and Power:
Turning Waste Energy into Value
Improved Performance & Reduced Emissions
CHP: An Economic and Technology Driven Approach to Greater Efficiency in Industry
CHP is a form of energy recycling that recovers heat that's normally wasted when generating power to supply the heating or cooling needs of an end user. CHP, also called cogeneration, is the simultaneous production of electrical and thermal energy from a single fuel source. CHP systems are a group of distributed generation technologies capable of capturing heat that would otherwise be emitted into the atmosphere typically from a manufacturing process or during the electric generation process and redirecting it for a useful purpose. CHP technology is located near or at the point of use so it eliminates the losses that occur in the transmission and distribution of electricity from a power plant to the user.
By generating heat and power in a combined process, CHP systems are more cost effective, reduce greenhouse gas emissions and provide more efficient use of natural resources. The efficiency levels of CHP technologies vary depending on the size and type of system, with CHP technologies typically achieving efficiency levels of 60-80% ( compared to ~45% for separate generation). By locating an electric generation plant on-site at a facility that has a significant demand for thermal energy, steam or heated water that is typically wasted can be used by the host. Each CHP plant reduces their host's energy costs and reduces emissions as compared to buying power off of the grid and producing steam with boilers.
Meeting 20% of U.S. electricity needs with CHP by 2030 would result in:
848 million metric tons of avoided CO2 emissions
$234 billion of investment in CHP technologies
Types of CHP Systems
CHP systems are identified by the system's prime mover, the device that powers the generator. CHP systems can be further characterized either as topping-cycle or bottoming-cycle generation.
Topping Cycle CHP
Topping-cycle systems produce electricity first, then recover the excess thermal energy for heating or cooling applications.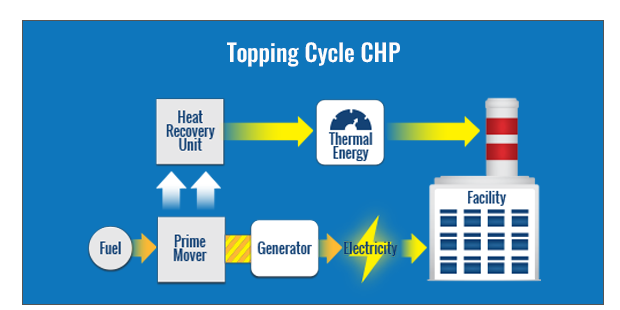 Bottoming Cycle CHP
Bottoming-cycle systems, also known as "waste heat to power," are a process whereby waste heat from an existing process is used to produce electricity. Both topping- and bottoming-cycle systems are types of cogeneration.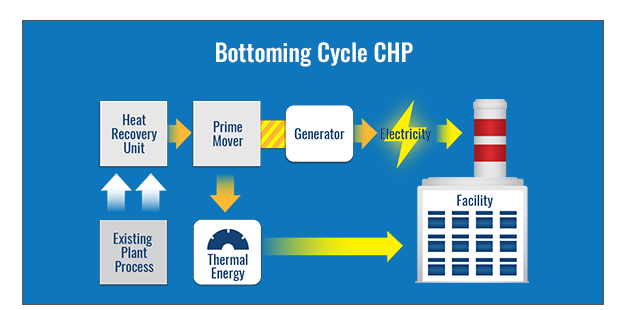 Making use of energy-efficient recycling technologies, how they work
and their benefits to the environment.
CHP Share of Total National
Power Production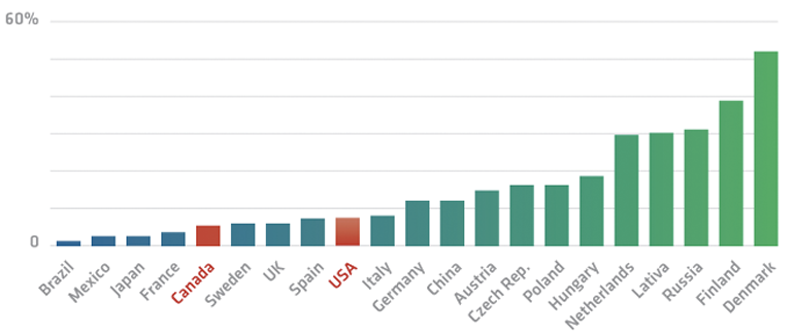 Current CHP projects in the U.S. provide a level of CO2 reduction that is the equivalent of removing more than 45 million cars from the road.
According to the United States Department of Energy, more than two thirds of the fuel used to generate power in the U.S. is lost as heat.